Do clear aligners like Invisalign® and OrthoFX® work?
Dr. Rajul Patel and Dr. Romi Patel are Invisalign® and OrthoFX® dentists, treating patients throughout the Diamond Bar area. Adults of all ages prefer clear aligners over traditional metal braces, and they are an excellent way to align your teeth. For the best way to improve the appearance of your smile, call (909) 860-7579 to schedule a consultation and see if clear aligners are correct for you. Teenagers and adults love Invisalign® and OrthoFX® because they straighten teeth without anyone being able to see you are correcting your smile. Many people in and around the Diamond Bar CA area trust Dr. Rajul Patel and Dr. Romi Patel to help them achieve their goal of a perfect smile – comfortably and conveniently.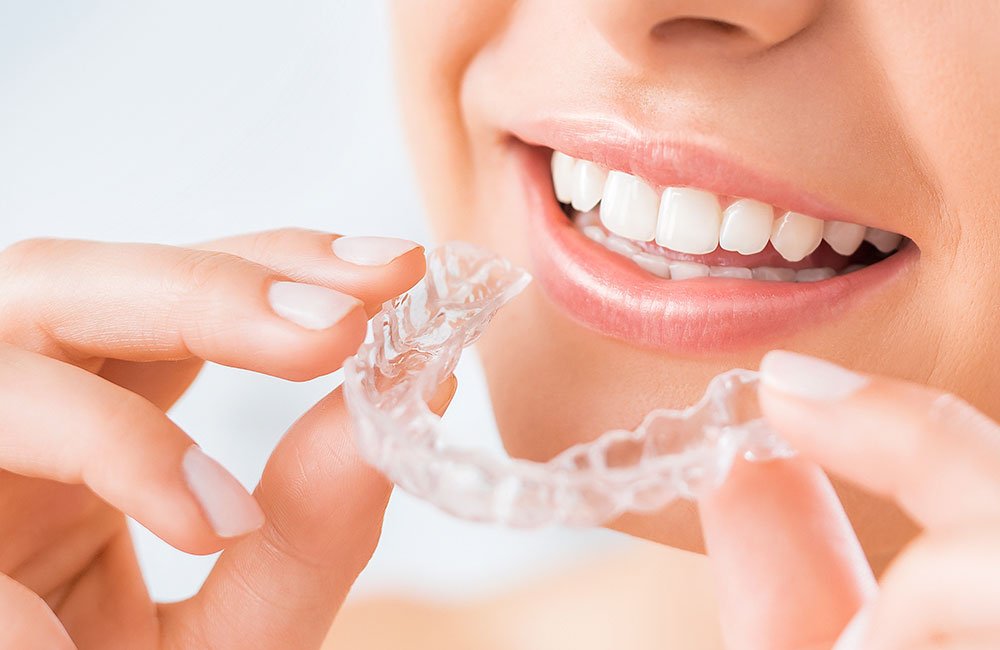 How do Invisalign® and OrthoFX® work?
As Invisalign® and OrthoFX® dentists, Dr. Rajul Patel and Dr. Romi Patel straighten teeth using a series of aligners. The first thing we do is take an impression of your teeth to create a series of aligners in a dental lab. The thermoplastic material used in the aligners is durable and flexible to be comfortable when worn for a long time. The material is virtually invisible.
As with most clear aligner programs, you should typically wear the aligners for 22 hours a day. Then, the current aligner will need to be replaced every two weeks with the next one in the series. Over time, the aligners will gradually move teeth into place over several months, making one slight adjustment that targets specific teeth. This will help your teeth to be comfortable as they move at a manageable pace. Once the process is completed, the final result will be straighter teeth and the perfect smile you've always dreamed of having.
What are the benefits of clear aligners?
Because of how convenient it is, patients in California prefer wearing Invisalign®.
Aligners are clear, so it is difficult for anyone to tell you are straightening your teeth.
Patients wear the aligners for 22 hours a day. This allows for plenty of time each day to eat dinner or remove for special events.
The brushing and flossing process does not change, and no additional tools are needed.
The risk that your teeth will become stained is much less than with metal braces that can be difficult to clean.
The procedure is much more comfortable than metal braces because aligners move teeth into place slowly, focusing on just a few teeth at a time.
Clear aligners are very easy to maintain, and you typically only use the same aligner for a couple of weeks.
How do I care for clear aligners?
We recommend that patients remove their aligner and rinse it with warm water daily. We also suggest that you brush them regularly with a soft toothbrush.
What are clear aligner attachments?
Some people need to have their teeth moved into place with ridges or attachments. An attachment is a clear bump made of an enamel-colored composite and secured to the teeth. There will be bumps on your aligner to hold it in place. Ridges work in the same manner. Instead of a raised bump, an indent is created. This is required for more complicated cases to ensure that a particular tooth or several teeth move into place as intended.
Diamond Bar, CA Invisalign Dentist
Patients of Diamond Dental Care will need to see Dr. Rajul Patel and Dr. Romi Patel for periodic appointments to ensure your teeth are moving like they are supposed to. Since the aligners are made at the beginning of the procedure, these appointments are less frequent than they would have been if you wore metal braces. Traditional braces use metal brackets and rubber bands to hold a wire between the teeth. Wires need to be adjusted frequently to maintain steady progress, resulting in frequent office visits. This can be difficult for patients with busy schedules, and missed appointments often result in a prolonged timeframe to achieve the desired results. As Invisalign® and OrthoFX® dentists, Dr. Rajul Patel and Dr. Romi Patel require less frequent checkups with clear aligners. For anyone in the 91765 area, this proves to be far more convenient than traditional braces.
How Much Time Does Invisalign Take to Work?
The procedure takes around twelve months for most patients. Your situation will determine the exact time, and only Dr. Rajul Patel and Dr. Romi Patel can tell you how long they will need to be worn. Compared to metal braces, the treatment time can be less. There is no need to schedule appointments to keep your teeth moving. All you need to do is pull out your next aligner!
Why it's important to work with an Invisalign® Dentist
Not all dentists offer Invisalign® or OrthoFX®. You have to receive special training to provide it to patients, and Dr. Rajul Patel and Dr. Romi Patel are among the best Invisalign® Dentists in California. To learn if the procedure is correct for you, schedule an appointment with our Diamond Dental Care office by calling (909) 860-7579.
How will Invisalign® and OrthoFX® affect my life?
Unlike traditional braces, the impact on your quality of life will be minimal. Since they are clear, they won't affect your appearance. Because clear aligners need not be worn for 24 hours a day, they don't have to interfere with eating. During this downtime, you can take the aligner out for meals, a date, or have an important event. This is an excellent way to make your teeth look better and give you more flexibility. Another common concern is whether aligners impact your speech. Many of our Diamond Bar patients tell us it takes a little time to get accustomed to wearing aligners. Sometimes, patients have a slight lisp that goes away once they speak while wearing them. This is common with all orthodontic procedures, but most people can speak normally within a couple of days.
How do I get started with clear aligners?
Call (909) 860-7579 and schedule a consultation with Dr. Rajul Patel.
Redeem your Invisalign Report
To redeem your Invisalign Report, simply complete the form below.

To take advantage of our special offers
or fill out the online form to